Love Paws Concert
NIROX Sculpture Park, Krugersdorp, South Africa
Details
Love Paws Concert at NIROX Sculpture Park
Sunday 26 November
Cradle of Humankind
-------------------------------------------------------------
On Sunday 26 November a trio of South Africa's favourite musicians will gather at NIROX Sculpture Park to raise funds and awareness for mankind's feline and canine friends through the NGO's 4Paws and PawsRUs.
Prime Circle, Just Jinjer and Kahn Morbee will be performing a live, acoustic showcase in the NIROX amphitheatre in the Cradle of Humankind – a World Heritage Site.
Animal lovers will unite in support of these valuable projects, amidst the natural splendor of NIROX Sculpture Park with its rolling lawns, meandering waterways and latest sculpture exhibition – WORDS|2017 featuring Willem Boshoff and guest artists Prof. Raimi Gbadamosi, Gordon Froud, Richard Forbes, Ruann Coleman, Stephan Erasmus, Alice Edy & Susan Woolf.
Guests can enjoy a wide selection of excellent cuisine from the Epicurean Emporium, the fully-stocked 'Bernie's Bar' and classic South African music, all the while contributing to the terrific work being done by 4Paws and PawsRUs.
Tickets & infomration available from www.acousticsnow.org
R340 per person online.
R360 at the gate – subject to availability.
Children under 12 pay half-price.
Infants 2 and under enter free of charge.
No food/drinks/pets through the gate.
Audience numbers limited. Pre-booking strongly advised.
Right of admission reserved. Entry at own risk.
GPS: S25°59' 09.56'' E27°46' 59.17"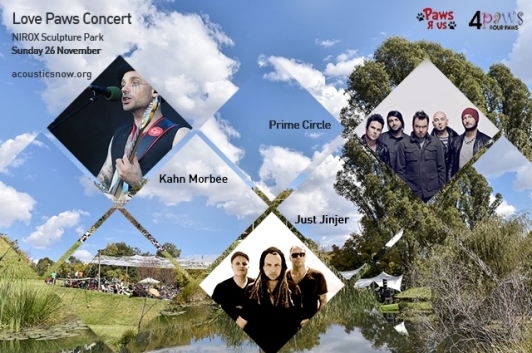 Location
NIROX Sculpture Park
Kromdraai Road
R540
Krugersdorp
South Africa
For any tickets related enquiries please email info@nutickets.co.za